Share It!
You Are Our
---
3898 th
---
Guest
Located at Praia da Luz, in the Western Algarve region of southern Portugal, Casa Pedrinho is a spacious 4 bedroom, 3 bath luxury villa set in a large secluded garden, with lovely sea views of the cliffs and across Luz bay. Large heated pool, beautifully furnished and very well equipped. Only a five minute walk from the centre of Praia da Luz beach and all the village facilities. The perfect place for a family vacation, or a romantic get away.



Praia da Luz is a lovely picturesque fishing village, positioned around a large bay, with a wonderful soft, sandy beach. Literally translated, Praia da Luz means Beach of Light, and dates back to Moorish times, when beacons were lit to warn fishermen at sea of the approaching danger from the savage Moors.
The Algarve coast of southern Portugal has a warm and dry climate well suited to both a beach holiday or a golf vacation. Praia da Luz is on the extreme west of the Algarve, near Lagos, just an hour's drive from the Faro airport. The relaxed atmosphere of Praia da Luz, and the fine sandy beach of Luz bay, have made this a favorite holiday destination for countless visitors.
Take an Algarve holiday today at Casa Pedrinho!
Click here to view
Moridias do Mar
Luxury Townhouses at Praia da Luz, in the Western Algarve region of Southern Portugal.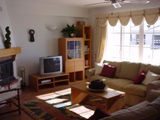 www.algarverentals.org